[Support] [Product Info] [Downloads] [Ordering] [Home <www.channld.com/software.html>]
Mac the Scope Screen Shot
Spectrum analyzer, 3-D filled waterfall spectrogram display, single channel, vertical time format, real-time plot of Waavebox frequency sweep, digital mode, 1/2 octave steps.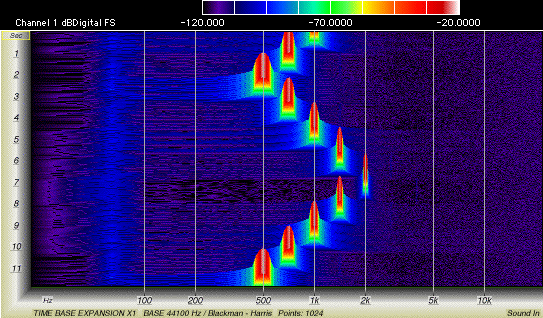 Waavebox was configured for digital emulation mode, with discrete frequency "sweep" steps. Sweep range 500 Hz to 2000 Hz, one 1/2 octave step per second. Sound output port connected to sound input port with cable (full-duplex sound generation and monitoring / analysis). Plot dynamic range 100 dB; scale is re: digital full scale.
Mac the Scope spectrogram display shown.