[Support] [Product Info] [Downloads] [Ordering] [Home <www.channld.com/software.html>]
Mac the Scope Screen Shot
1/3 octave RTA, showing level and peak hold displays, configured for A-weighted SPL.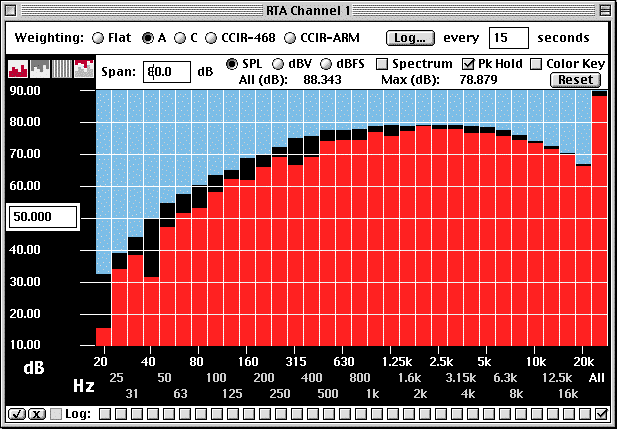 RTA display colors easily can be changed. Here, red corresponds to level and blue to peak. The blue bars are "pushed" upwards by the red bars, to record peak levels.
The All level bar can be configured to show the logarithmic mean or logarithmic sum (overall level) of all other bars.
Other available options are different weighting functions, display as a spectrogram, or color key the display bars. The levels of the individual bars (or the overall level) can be logged to a text file every second (or slower); or as a single-shot tab-delimited file.
Microphone sensitivity may be entered and the entire gain structure of Mac the Scope calibrated to accurately display input levels, as SPL or dBV (or dB re: digital full scale, which is not affected by calibration).