General Audio Specifications
Supported audio interfaces: Any CoreAudio compatible interface (including built-in audio) with at least 2 input and 2 output channels
Supported Sample Rates: 44.1, 48, 88.2, 96, 176.4, 192 kHz
Supported Sample Resolutions: 16, 20, 24, 32 bits
Internal Signal Processing Path: 64 bit (Double Precision Floating Point)
File Output Formats (Recorder): AIFF, Sound Designer II (Uncompressed); CAF (Apple Lossless), 16, 24, 32 bit
File Input Formats (Editor): AIFF, AIFC, WAVE, Sound Designer II, MP3, M4A, CAF
File Output Formats (Editor): AIFF (Uncompressed); M4A (Apple Lossless); Stereo or Mono, 16, 24 bit
Rumble Filter (with RIAA Correction): Variable Frequency; 12/ 18 / 24 / 36 / 48 / 96 dB/octave
Noise Gate: -100 to 0 dBFS
Built-In Bi-Amp Loudspeaker Crossover: Variable 38 Hz - 8 kHz, 6 / 12 / 18/ 24 dB / octave, Variable Overlap
Sample Rate Converter, to 96 kHz: from 192 / 174.4 kHz
Sample Rate Converter, to 44.1 kHz: from 192 / 174.4 / 96 / 88.2 / 48 kHz
Sample Rate Converter - for Converting High Definition 88.2/96/176.4/192 kHz Audio to CD / iTunes / iPod Format
A perfect result is a single spectrogram trace with no spurious generated tones (completely black background). See this page for comparisons with other SRCs.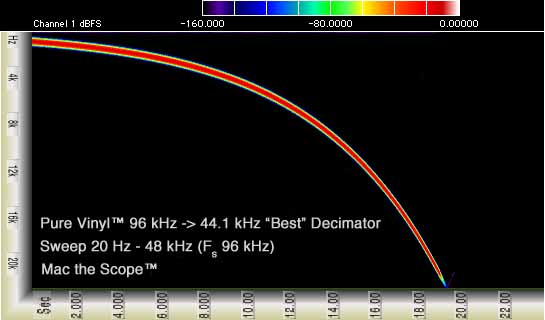 RIAA Correction Curve Accuracy
Measurement Conditions: Sample Rate 192 kHz / Resolution 24 bit
+0.06, -0.00 dB, 20 Hz - 10 kHz (+0.01, -0.00 dB, from 20 Hz - 3 kHz)
Rising gradually to <+0.2 dB at 20 kHz and +1.0 dB at 50 kHz*
Interchannel Amplitude Deviation: 0 dB
Interchannel Phase Deviation: 0 degrees
*The response rise at high frequencies represents a deliberate compromise between the standard RIAA curve and the newer, "modified" RIAA curve, which calls for an additional compensation filter "corner frequency" (amounting to +3 dB at 50 kHz) to compensate for vinyl cutter head rolloff. We have taken a moderate approach (+1 rather than +3 dB at 50 kHz and +0.175 instead of +0.6 dB at 20 kHz).