Pure Music® Version 3
High Resolution Music Server Software for Apple Macintosh Computers - Version 3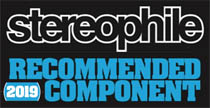 2015 - 2019 Absolute Sound Editors' Choice Award
2010 - 2019 Stereophile Editors' Choice Recommended Components
2011 Absolute Sound Golden Ear Award
2011 Positive Feedback Brutus Award
2010 Stereophile Computer Audio Product of the Year Runner-up (after Channel D Pure Vinyl™)

Simply and automatically docks with iTunes
Based on Channel D's acclaimed Pure Vinyl audio playback engine
Pure Music handles all music playback; iTunes used as database, playlist organizer, etc.
Automatically docks with iTunes window, including automatic UI resizing / tracking
Native FLAC and DSD playback; Tracks appear in iTunes
Supports Apple Remote App for iPad/iPhone/iPod Touch
Automatic sample rate switching, up to 384 kHz PCM sample rate or 2.8 or 5.6 MHz DSD
The first music server and audio player software (June 2011) to directly play DSD format (dsf / dff, 64Fs and 128Fs) audio files with any DAC (real-time conversion to PCM during playback), plus full native DSD Audio Support (on DACs supporting DoP).
Audio Streaming Support with Pure Music's "Streamthrough" feature (included in Pure Music since 2011) which permits conveniently playing and enhancing other computer audio sources (Spotify, Qobuz, YouTube, iTunes Radio Internet audio streams, movies, etc.) through Pure Music, with full access to Pure Music's dithered volume control, 64 bit crossover, audio EQ plug-ins, NetSend streaming, metering, etc., all without needing to quit Pure Music
Automatic Gapless track playback and Memory Play
Adjustable Dithered Volume Control
Fast-Responding Firefly Metering, Monitor Input (Native) or Output (Post - Volume Control)
Real-Time Dynamic Range Meter
Supports All MacOS Compatible Sound Cards / DACs / Audio Interfaces
Supports all iTunes Compatible Audio File Formats (including WAVE, MP3, AAC, AIFF, Apple Lossless)
Plays music stored on networked volumes
REAL-TIME Sample Rate Conversion
Selectable REAL-TIME 64-bit upsampling
Mix to Mono, Exchange Left and Right Channels, Invert Polarity / Phase, Channel Balance Trim
Per-Track Polarity and Volume Tagging
CoreAudio Device HOG Mode Exclusive Access support
Internal Audio Device Selection and Setup (or use Apple Audio MIDI Setup)
Supports AudioUnit Audio processing plug-ins (Room Correction, Parametric EQs, etc.)
Uncompressed local audio streaming support with NetSend (up to 384 kHz and up to four separate connections)
64-bit 2/3/4-way Crossover with time alignment and adjustable minimum phase (IIR) filters
Includes Mastering Quality File Converter / Downsampler for PCM, FLAC, DSD, DXD Files
Our own proven, optimized algorithms for sample rate and DSD to PCM conversion - not built from a patchwork of "open source" software
Supports both PowerPC (G4, G5) and Intel Mac Computers running Mac OS X 10.5 or later
Can install on more than one computer per purchased license
Customer Support: free email, telephone and Remote Support
---
Comments from Pure Music users

|

Try Pure Music FREE for 15 Days!
System requirements: Mac OS X 10.5.8 or later (up to and including OS X 10.14 / Mojave); G4, G5 or Intel CPU. Minimum 1 GB installed RAM, 2 GB for Memory Play. 8 GB or more required for high resolution playback (88.2 kHz or higher sample rate) or if running Mavericks or later OS.
Demo: without an activation code, Pure Music will function for 15 days with all features enabled.

Buy Pure Music Now!
An activation code automatically will be generated and emailed to you within minutes of approving your order.



Pure Music 3
Pure Music 3 is free to users who purchased a Pure Music license after January 2014. For previous purchasers a discounted upgrade is avaiable. Click the Buy button above for more information.


Pure Vinyl Upgrade
Upgrade Pure Music to Channel D Pure Vinyl for recording, editing, analog source switching, vinyl RIAA curve support (and more) for the current price difference. A Pure Vinyl activation code also will work with Pure Music.


Excerpts from Reviews / Customer feedback
"once you experience what it offers, there's no going back!" - Pete Davey, Positive Feedback Online - Issue 50 "I am so appreciative of your help and support. I just registered the program. So far, as a demo customer, I have written to you twice with questions and requests. I got back timely replies and offers of more help! It has been a couple of very happy weeks working with the software. The Streamthrough has been a joy. And, to think, I basically bought the software just for convenience with HD file playback. I usually only listen to those or vinyl. Well, not any more! I can't wait to listen to more music. "

- Dr. Mel Comberiati, Professor of Music History, Manhattanville College

"[For $129], Pure Music is a bargain."
- John Atkinson, Stereophile August 2010


"Wenn Sie also die optimale Software fur USB-Wiedergabe aus dem Mac suchen: Pure Music mit Memory Play! ("If you're looking for the optimal software to play music from your Mac via USB: Pure Music with memory play on!")" - Ulrich Wienforth, STEREO / HiFi DIGITAL Issue 3 (June 2013)

"...like having iTunes as chassis but with a V6 Biturbo engine. A marvel." - Eliseo Vega Huitron, Home:Tech Magazine October 1, 2010

"...a Must Have" - Wicked Digital December 12, 2010

"Recommended - 5 out of 5 stars overall" - Jason Kennedy, Hi-Fi Choice (U.K.) May 2011 (Issue 345)

"...bug-free and musically delicious on ALL levels." - Dave Clark, Positive Feedback Online Brutus Awards, Issue 58 / December, 2011

"What more could one ask for?" - Srajan Ebaen, 6moons.com December, 2010



"I concluded my review of the Amarra software program with, "If you want to hear how good a quality Mac-based system can really sound, you have to use Amarra..." Time and the latest version of Channel D's Pure Music software may make me eat those words. If you want to hear how good a quality Mac-based system can really sound, you have to use Pure Music..." - Steven Stone, The Absolute Sound January 2011 Online review



"At $129, Pure Music is a no-brainer purchase... undeniably improves sound quality, with increased clarity and reduction of digital glare." - Chris Groppi, Secrets of Home Theater and High Fidelity September 27, 2011

"...the upsampling-derived improvements were for the most part so marked that I found myself in possession of a whole new jukebox... I call this free money." - Michele Surdi, 6moons.com October, 2010

"Pure music is an incredibly smart program that is recommended to anyone who seriously wants to get into the computer high-end." - Christian Rechenbach, Einsnull (Germany) July / August, 2011

"Most used playback software @ Newport? Channel D Pure Music... Pure Music not only plays back all your iTunes files in better fidelity, it also plays back native DSD (!) files. Wow, that's truly something, since DSD playback was typically the domain of Sonoma or other fancy DAWs costing tens of thousands of dollars." - Danny Kaey, Sonic Flare June, 2011

"At this point, given the lack of difference between the performance of the two players, I really see no reason why anyone would choose the far more expensive Amarra (or Amarra Mini) over Pure Music. I know where I'd be spending my money if I hadn't already purchased Amarra." - Confessions Of A Part-Time Audiophile December 8, 2010

"I can safely say that Pure Music makes listening with headphones less fatiguing to my ears. I listened for several hours at one sitting, and when I got up, there wasn't the relief I hadn't realized I enjoyed when the cans came off..." - John Hendron, Biberfan January 16, 2011

"With its ability to extract the best from high resolution music files, Pure Music - especially paired with a decent digital audio convertor and decent speakers - can make your Mac sound as good or better than a high-end CD player costing hundreds or thousands of dollars. That alone makes Pure Music a bargain." - Bill Henderson, the Gadgeteer, August 22, 2011

"[Pure Music] is definitely a plug and play application and in the classic Mac tradition comes preconfigured to get optimal results for the average user with little or no downside and a very polished look and feel; plus, it's extremely stable. Pure Music has a gentler, more melodious quality to it, making it a little easier to hum, tap one's toe and follow along with the music. [Pure Music is] a lot less expensive than the full version of Amarra ... It's like choosing between a VPI and an SME turntable; the latter is more expensive so you want it to be better but mostly it's just different... I feel more drawn to play music through Pure Music." - Andy Schaub, Positive Feedback Online, Issue 56 July / August, 2011

"I found Pure Music a step forward compared to everything else I have used in the digital domain during my experience as hifi enthusiast and journalist." - Dott. Arch. Giulio Salvioni, Fedelta del Suono, Issue 178, October, 2010

"When playing 16/44 sources, Pure Music sounds as good to me as the best CD transport anyone can dig up - as long as I'm using a high-quality jitter-immune D/A converter. But I can play my 88.2 kHz, 96 kHz and 192 kHz/24 bit masters and then Pure Music beats any CD source. I love being able to play a collection of my masters using the friendly Itunes interface, but with Pure Music bypassing any sound processing that iTunes performs. Throw in a calibrated, dithered volume control marked in decibels, and I'm in heaven. Mechanically, the Mac Mini is quieter than some CD players!"
- Bob Katz, Mastering Engineer, Digital Domain, Orlando, FL; Formerly Recording Engineer and Technical Director of audiophile label Chesky Records

"I just wanted to tell you how much I'm enjoying your product. I spent a week or so deciding on what settings I wanted to use and then I've just left it alone and have been enjoying music ever since. This is a wonderful product for music lovers and I genuinely appreciate your effort on this. Thanks!" - Steve Woods