Pure Vinyl™
Stereophile 2010 Computer Audio Product of the Year

Digital LP playback, editing and archival; high-resolution digital music server
Linking analog LP playback with the precision of high-resolution digital music reproduction
LP Playback / Recording / Editing / Archival
Precision Optimized 64-Bit RIAA Vinyl Correction Curve (IIR design, with phase response identical to analog RIAA correction)
Directly links audiophile caliber analog vinyl playback and the advantages of high-resolution (192 kHz / 24 bit) digital audio reproduction and recording / archival
Single point of integration for analog and digitally sourced music
Supports 192 kHz 24 bit Sampling for State of the Art, High-Resolution Digital Quality
Painstakingly Designed to Preserve the Warmth, Clarity and Dynamics of Vinyl Reproduction
Pristine, 64 bit (Double Precision) Floating-Point Internal Signal Path for No Added Distortion
Helps Optimize Turntable Setup by Providing a Repeatable Baseline: Just Record and Compare
Features
Unique, "Scratch" Style, Grab & Spin "Vinyl Cueing" Nondestructive Audio Editor
Cueing Trigger "Noise Gate" feature Automates Recording Process; Just Lift Stylus and Flip the Record
High Quality 64-Bit Sample Rate Converter for Exporting CD Format Tracks to Digital Players (iTunes, iPod, CD-R)
ZEPHRR® Zero Phase Shift 64-Bit Rumble Filter for Resampling; Adjustable Frequency, up to 96 dB / octave slope
Adjustable Noise-Shaped Dithering for Word-Length Reduction
Built-In Correction Curves for pre-1955 Vinyl / Shellac
NetSend for Streaming Audio to Other Computers (up to 192 kHz, 24 bit, uncompressed)
Nondestructive, Integrated Pop and Click Editor / Peak Finder
Ultra High Quality Integrated Multithreaded Sample Rate Converter
Virtual Line-Level Preamplifier / Source Selector (for audio interfaces with more than 2 analog input channels)
Built-In 2/3/4-way Crossover (with 64 bit internal resolution and Adjustable Time / Phase Alignment) (for audio interfaces with more than 2 output channels)
AudioUnit Plug-In Support (add parametric / graphic EQ, etc.)
"Picture Disc" Feature (Integrate Album and Label Artwork with Vinyl Image)
Space-Saving Rendering of Virtual iTunes "Bookmark" Tracks For Playlists from Vinyl Recordings (Without Creating Separate Physical Tracks)
Also Built-In: Channel D's Acclaimed Pure Music Digital Music Player
---
Comments from Pure Vinyl users

|

---
Playing LPs with Pure Vinyl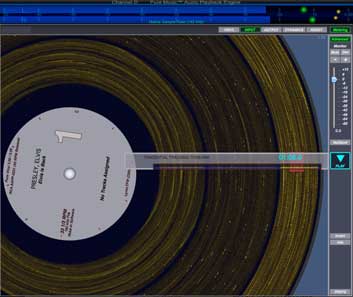 The PLAY mode of Pure Vinyl was designed to closely recreate the experience of vinyl playback. Just as in the editing process, the stylus can be dragged and dropped anywhere on the surface, to cue a particular track. This is made simple by employing the spinning vinyl record metaphor. To flip the record, juct click on the label. Records with more than two sides (double, triple, etc. albums) can be used with the player - each click moving to a different side of the next disc.

Pure Vinyl also can automatically "flip" the record at the end of the side - for uninterrupted playback in "album" format.. (Or not - you can even have the stylus "bump" endlessly in the run-out groove - Just like the old days.) But better, because there's no stylus to degrade the recording with repeated play, nor a vinyl surface to scratch.

The high-sample-rate transcription created during recording can be used in conjunction with the track edits performed on the downsampled file. The file's pristine, but large, high-sample-rate archival "cousin" can be archived offline, such as on a DVD-R, and used for later playback. The track marks made during the editing process are mirrored perfectly in the high-sample-rate file. Every play sounds like the first one - at super quality 192 kHz 24 bit (with the proper audio interface).

Finally, nearly any audio file can be imported into Pure Vinyl - drag any non-DRMed music file from your iTunes library, and create a vinyl "single" that can be enjoyed in the vintage way.


Recording LPs with Pure Vinyl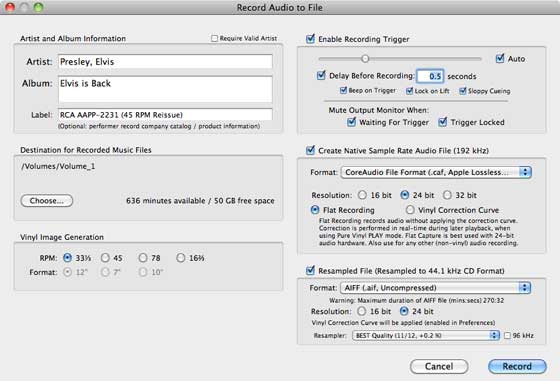 The Pure Vinyl Recorder application was designed from the ground up specifically for creating high-resolution, archival quality transcriptions of your precious records - at sample rates and resolutions up to 192 kHz / 32 bit.

Naturally, the Pure Vinyl Recorder can apply precision RIAA EQ in software... and even can automatically downsample to CD or DVD-A format while recording. A high-quality output is provided for flawless monitoring while recording, using the software-based EQ, if desired.

The adjustable, threshold-based noise gate doesn't start recording until the needle drops - and even can be configured to omit that "needle drop" part of the recording. When the tonearm is lifted at the end of the side, the noise gate automatically "closes" - pausing the recording, giving you the opportunity to flip the record, clean the other side, grab a snack, etc. At this time, the application is "deaf" to incoming audio. When ready to resume recording, just click the noise gate Lock button, re-arming the recording.

Pure Vinyl scrupulously maintains a high-quality 64-bit floating-point (double precision) processing path from the moment that the sound is sampled, through the entire downsampling operation, and on to monitoring and playback, to insure that you don't lose any of your precious sound.

Downsampling (decimation) is done properly, using widely vetted techniques. For example, 192 kHz audio is first upsampled and zero-padded, then antialias filtered and decimated. This is a computationally "expensive" process - that Pure Vinyl performs when there are plenty of CPU resources available: during recording. Decimating while recording high-sample-rate audio can be a tremendous timesaver - especially when using high-quality downsampling software, which is a slow process.

The downsampled file can be used for Pure Vinyl editing operations. The file's pristine, but large, high-sample-rate "cousin" can be archived offline, and used for later playback. The track marks made during the editing process are mirrored perfectly during playback of the high-sample-rate file.

All sound file formats used are lossless: AIFF or Apple's CoreAudio (.caf). The latter format permits recordings of unlimited duration with any sample rate or sample size. Exporting sound files to 16-bit (or 24 bit) 44.1 kHz CD format is done using Apple Lossless Compression (to .m4a) or AIFF. If lossy (mp3, aac) compression is needed, the pristine audio files can be compressed by converting via iTunes.


Editing Digitized LPs with Pure Vinyl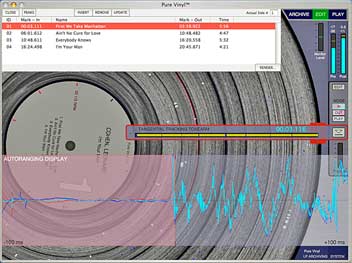 The inherent surface noise of vinyl makes track cue assignment difficult, because music fades are contaminated with surface noise. Linear-style waveform editors are not quite up to the task of working with digitized vinyl. Using apparently quiet waveform locations as track boundaries, without careful auditioning of selected marks, is likely to result in track marking mistakes.

Pure Vinyl uses a DJ-inspired "scratch" technique where the record is "grabbed" and "spun" to accurately locate cueing points. During the track marking process, Pure Vinyl automatically applies "gain riding" so that quiet areas of the music are automatically amplified, while looping, permitting setting accurate cueing points, even when the music fades in or out in the presence of vinyl surface noise.


Fixing Vinyl Flaws in Pure Vinyl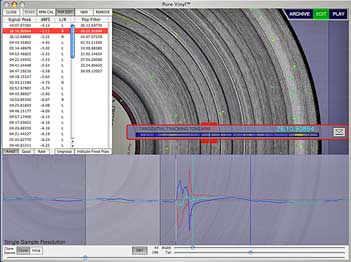 Pure Vinyl incorporates features to streamline this tedious (but ultimately rewarding) task. Iconic overlays applied to the vinyl image accurately depict audible blemishes and peaks. Interpolation and sample cloning can be used to clean them. The peak finder is invaluable in setting proper levels. Just click on a peak in the list (generated automatically during vinyl rendering) and the record rotates and stylus moves to the exact location of the peak / pop on the disc image.

"Fixed" edits can be incorporated nondestructively during playback of high-resolution master transcription (if used). Pop fixes can be applied when exporting individual tracks. Again, the original file is preserved, and you always can go back and modify your edits.

Third party software can be used with Pure Vinyl music files for overall restoration or noise reduction, if desired.

The peak/pop editor also can be used to "calibrate" the "rotational speed" of the vinyl image. Turntables are subject to rotational speed error. However, the periodic nature of the scratches on the record surface can be used to advantage. At 33 1/3 RPM, a scratch or blemish across two or more grooves will be repeated at an interval of exactly 1.800 seconds. A future release of Pure Vinyl will incorporate this into precision pitch correction of exported music files (that is, when we are satisfied with the quality of the resampling algorithm we are developing). Currently, the calibration can be used to create a rotationally exact replica of the vinyl disc.

After track assignment is complete, the individual tracks can be exported automatically as Apple Lossless Compressed sound files for incorporation into digital music players, such as iTunes.


---
Try Pure Vinyl 3.1 FREE for 15 Days!
System requirements:
Mac OS X 10.5.8 or later (including Mountain Lion / OS 10.8); G4, G5 or Intel CPU.
Pure Vinyl Reviews
" the results were stunning- some of the quietest, best sounding vinyl playback I have ever heard."
Nels Ferre, enjoythemusic.com - March 2010
"...pay attention to the digital RIAA's finesse and robust attacks - particularly in the bottom octaves - and its unerring tonal neutrality... lifting of veils from music... Listen and that's what you're sure to hear, without an additive penalty in terms of the usual digital edge and etch... Pure Vinyl plus peripherals offers a relatively inexpensive way to achieve an extremely high level of vinyl playback."
Michael Fremer, Stereophile August 2010 Read review - purchase issue

"One of the nicest and most feature-laden software packages for transferring LPs to digital files."
The Absolute Sound
February 2009 (Issue 190)
Steven Stone
Pure Vinyl User Comment
"Wow. It is hard to explain what I am enjoying more... the vinyl recordings or the quality of the Pure Music upsampling through the TC Impact Twin. I am glad I stayed on the path and bothered you so much. What a pay off. My HDCD player is now second class. The quality even exceeds the SACD player I just had on loan. The output from your software just matches up with my vintage system components in a very synergistic way. I do not have top of the line stuff but you have helped take the old stuff to an entirely new level.

"I ended up dismantling the tonearm wire that came with my tonearm. I added the XLR connectors with the resistors you recommended. Dead quiet. My Thorens 125th anniversary compilation recording was the first recording. Vinyl has always been my best quality source and that quality is a memory with the RIAA curves applied by the computer. Thank you very much,
- Peter Bliss

Pure Vinyl Features
High-Quality Playback - Pure Vinyl applies an extremely accurate inverse - RIAA vinyl correction curve in real-time during playback. Your music is reproduced as accurately as possible, by eliminating the distortion and frequency response errors of analog based hardware.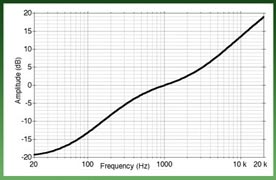 Using Software RIAA Correction does not "reduce resolution." Technical "white paper" presented at the Audio Engineering Society (AES) Convention in 2007 and explained on FAQ.

Sample 192 kHz / 24 bit snippet of "Fever," from the new "Elvis is Back!" 45 RPM 2-disc Analogue Productions reissue LP, rated "10" for sound quality by musicangle. Edited from a "Flat" 192 kHz transfer to digital using a Seta® Model L preamplifier and Lynx audio interface. RIAA correction via Pure Vinyl SRC "pass through" setting, and Pure Vinyl's adjustable 72 dB / octave ZEPHRR® zero-phase-shift subsonic filter. If your system cannot currently play 192 kHz natively, here is a 44.1 kHz version, downsampled with Pure Vinyl's high-quality SRC. Both samples are in Apple Lossless format.
Recording - Pure Vinyl was designed specifically for creating high-resolution, archival quality transcriptions of your precious vinyl, at sample rates up to 192 kHz (or higher). Pure Vinyl automatically can downsample and mirror to CD or DVD-A formats during recording, for digital jukebox use. Pure Vinyl uses standard audio file formats: AIFF, Sound Designer II, m4a (losslessly compressed) and Apple CoreAudio format (either uncompressed or losslessly compressed).
Revolutionary Editing/Exporting - Pure Vinyl uses the "scratch" style, grab-and-spin metaphor employed by professional DJs, with "needle drop" track cueing. It's an intuitive, fun way to assign track markers - instead of being unnecessarily tedious, as with conventional, linear-style waveform editors. After editing, individual tracks automatically can be extracted and exported from the original file.
Peak Detection / Normalization / Pop and Click Removal - Pure Vinyl incorporates features to streamline this tedious (but ultimately rewarding) task. The built-in peak finder and waveform inspector is useful for setting proper normalization levels.