[Support] [Product Info] [Downloads] [Ordering] [Home <www.channld.com/software.html>]
Mac the Scope Sonograms
Spectrum analyzer, 3-D filled live waterfall spectrogram display, single channel, vertical time format, real-time plot of Waavebox frequency sweep, digital mode, 1/2 octave steps.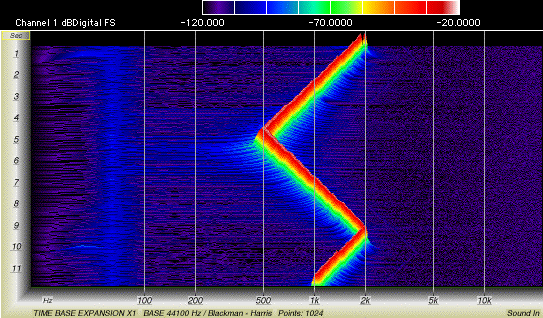 Waavebox was configured for analog emulation mode, with continuous frequency sweep (and click-free output). Sweep range 500 Hz to 2000 Hz, one 1/2 octave step per second. Sound output port connected to sound input port with cable (full-duplex sound generation and monitoring / analysis). Plot dynamic range 100 dB; scale is re: digital full scale.
The first harmonic distortion product (faint trace one octave above the principal sweep peak) is over 90 dB smaller than the amplitude of the fundamental frequency.
Mac the Scope spectrogram display shown.
Room impulse response, spectrogram plot, rendered with the included photorealistic renderer Mac the Scope 4.0 (OS 9).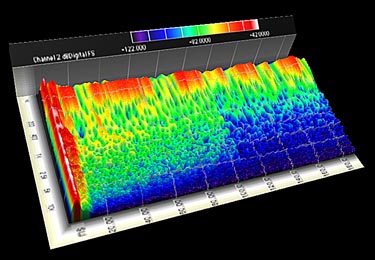 Related screen shots:
| | |
| --- | --- |
| Spectrum analyzer, "top-view" spectrogram display, dual channel, horizontal time format, false color. | Spectrum analyzer, "top-view" spectrogram display, single channel, horizontal time format, inverted grayscale. |
| | |
| | |
| --- | --- |
| Spectrum analyzer, 3-D filled waterfall spectrogram display, single channel, vertical time format, real-time plot of Waavebox frequency sweep, digital mode, 1/2 octave steps. | Click on the picture below to view an index, with links to the individual spectrograms, which include music and wild animals. |
| | |
[Support] [Product Info] [Downloads] [Ordering] [Home <www.channld.com/software.html>]