Home | Download and Purchase Pure Vinyl | Pure Vinyl Support and FAQ | Specifications | Contact | Pure Vinyl News

Pure Vinyl - linking analog LP playback with the precision of high-resolution digital music reproduction

Channel D Pure Vinyl / Pure Music / Seta Preamplifier News

Channel D Pure Music reviewed in Positive Feedback Online


Channel D Pure Vinyl, Pure Music, Seta Model L and Seta Nano "Flat" Phono Preamplifiers reviewed in Stereophile Magazine

In the review:

- Michael Fremer weighs in on Pure Vinyl's Software RIAA Correction / "Flat" Vinyl Playback and Seta Phono Preamplifiers

- Includes John Atkinson's complete measurements of Channel D Seta Phono Preamplifiers

Read the full review in the August, 2010 issue of Stereophile, appearing on newsstands now; or purchase from Zinio.


Channel D Pure Vinyl reviewed in Enjoy the Music by Nels Ferre





- Channel D Products Exhibited at AXPONA Audio Expo North America, Jacksonville, FL

- Channel D Pure Music High Resolution Music Server Software 1.0 Introduced and Released at AXPONA




January 10, 2010 (Revised January 16, February 1)

Feature comparison between Pure Vinyl iTunes Audiophile Quality Music Server and another popular player

Note: this comparison was accurate as of the date it was posted.
The feature set of the other player was changed in a newer release, and an up to date comparison can be found here.
| | | |
| --- | --- | --- |
| Feature | Pure Vinyl (iTunes Music Server) | Player "A" |
| Uses iTunes for Playlists, Database | Yes | Yes |
| Dithered Volume Control | Yes | Yes |
| Adjustable Dithering (Noise Shaping) | Yes | |
| Automatic Sample Rate Switching | Yes | Yes |
| Gapless Playback | Yes | Yes (but requires "Playlist Mode") |
| Memory Play | Yes | Yes (but requires "Playlist Mode") |
| Playlist Mode | No (unnecessary because iTunes interaction works in Memory Play / Gapless) | Yes |
| File Format Support for High Quality Playback Engine | Uncompressed PCM, Apple Lossless; plus MP3, AAC, etc. | Uncompressed PCM, Apple Lossless only |
| Maximum Sample Rate | 192 kHz | 192 kHz |
| Internal Signal Chain Resolution | 64 Bit (Double Precision) | 64 Bit |
| High Quality, Real-Time Upsampling | Yes (64 Bit Internal Resolution; Defeatable; up to maximum supported DAC sample rate). Click here for technical information regarding the quality of our real-time upsampling. | |
| Biamping / Adjustable Subwoofer Crossover | Yes, With 64 Bit Resolution, Adjustable Frequency and Slope | |
| Crossover Time Alignment | Yes (0 - 100 msec) | |
| NetSend Feature for Streaming / Distributed Audio | Yes, Low Latency, with Adjustable Sound Propagation Delay Compensation | With Third Party Add-On Software |
| Mix to Mono, Exchange Left and Right Channels, Invert Polarity / Phase, Channel Balance Trim | Yes | |
| Automatic iTunes and Player Window Docking / Drag Tracking | Yes | |
| Animated, optional "Times Square" Style Scrolling Track Information Display | Yes | |
| Fast-Responding Firefly Metering | Yes | |
| Real-Time Dynamic Range Meter | Yes | |
| "Fun" Vinyl Single Animation with Playhead Cartridge | Yes | |
| Recording / Vinyl Archiving / Editing | Pure Vinyl | Player "A" |
| Recording | Up to 192 kHz 32 Bit, Selectable File Format (also comes in handy for making A/B comparisons of audio gear) | |
| Automatically Resample and Mirror to CD Format During Recording | Yes (PCM or Lossless Compression) | |
| Recording Trigger for Automation of Vinyl Recording | Yes, Adjustable | |
| Edit Tracks from Vinyl | Yes | |
| Unique, Grab-and-Spin "Virtual Vinyl" Track Editor | Yes (international patents pending) | |
| Real-Time RIAA Filter for "Flat" Playback | Yes | |
| RIAA Filter Type | First Order, Precision 3 - Corner, Continuous IIR Type, 64 Bit. Click here and here for technical information regarding the quality of our RIAA compensation filtering. | |
| RIAA Filter Phase Response | IIR, Same as Analog Style RIAA Filter | |
| Correction Curves for Antique (pre-RIAA) Vinyl and Shellac Recordings | Over 60 Correction Curve Presets Included; Customizable | |
| Sample Rate Converter with RIAA Correction | Yes (RIAA Correction Defeatable) | |
| ZEPHRR Zero Phase Rumble Reduction Filter | Up to 96 dB / Octave, Adjustable Frequency | |
| Other | Pure Vinyl | Player "A" |
| Bloatware?* | Total Application File Size (Editor plus Recorder / Player) less than 8 MB | Application File Size > 60 MB |
| Audio Hardware Support | Any CoreAudio Compatible Audio Interface | Requires a "Certified" audio interface (as indicated in product documentation) |
| Copy Protection | Software (no risky Kernel Extensions) | Hardware Dongle / Kernel Extension "or License File (machine locked)"@ |
| License | Multiple Computers Owned by Same User | One Computer (Must Move Dongle) "or License File (machine locked)"@ |
| Demo | 15 Day, Unrestricted Features** | Periodic Playback Interruptions |
| iTunes Linking | Manual or Automatic (from inside player application) | Manual or Automatic (via separate iTunes Visualizer Plugin) |
| Relies on iTunes "Ghost Play"?*** | No | Yes |
| Product Introduced to Market | July, 2006 (iTunes server support first added in 2007; iTunes server and application user interface completely revised March 2009) | 2008 (month not specified) |
| Price @@ | $229 | $995 |

Information obtained from software documentation (and developer input, if not already available in current documentation).

@ direct quote from developer
@@ comparison of companies' top products; a comparison with the cheaper (but still more expensive than Pure Vinyl), feature-limited version of the other company's software would show a greater disparity in features

* For reference, Adobe Photoshop CS 7 is 45 MB. Pure Vinyl was designed and built from scratch, for the specific purpose of two channel recording and playback, and does not contain unnecessary parts (such as support for "up to 48 tracks of real time audio," according to the developer of the other application).

** Easier to comfortably audition the demo

*** Both the Player software and iTunes are playing the track at the same time, so the computer is doing twice as much work. (It doesn't matter that the iTunes volume is turned down, iTunes is still playing the file in tandem with the other player, placing extra burden on disk or network I/O and the CPU.) "Playlist Mode" circumvents this problem, but direct iTunes playlist interaction and control is not possible in this mode, which also requires performing additional steps (selecting a playlist or a group of songs, then activating Playlist Mode), which is unnecessary with Pure Vinyl's design.

Real-Time upsampling doesn't require wasting time or disk space for creating duplicate versions of audio files, and allows immediately making A/B comparisons between native and upsampled playback.



A "comparison of playback engines," regarding sound quality, is not made above. The table provides a comparison of features. A published assessment of "playback and sound quality" can only be subjective. If sound quality, performance, and usability may be determined easily by auditioning a downloadable demo, why rely on someone else's opinion? A published review can provide valuable guidance. But when the final decision on purchasing the product can be made in the comfort of one's listening chair, without first making a financial commitment: that's the beauty of software.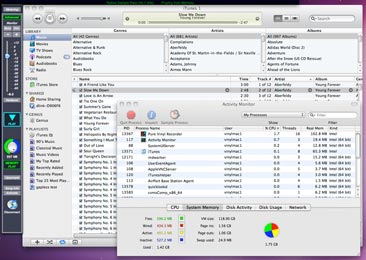 CPU Utilization Test of Music Server "Dock" Mode (Pure Vinyl 3 Preview Release 3)

Pure Vinyl Preview Release 3 may be downloaded here.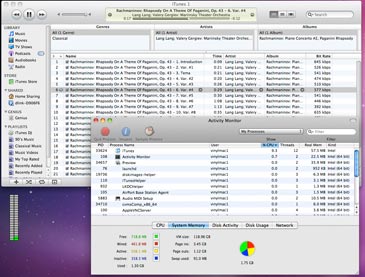 CPU Utilization Tests of Music Server "Dock" Mode (Pure Vinyl 3 Preview 2)

Click Image for CPU Usage Comparison of iTunes Playback with Pure Vinyl Disk / Gapless Memory Play Modes (2 GHz Mac Mini)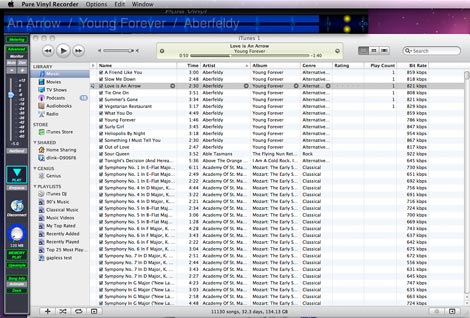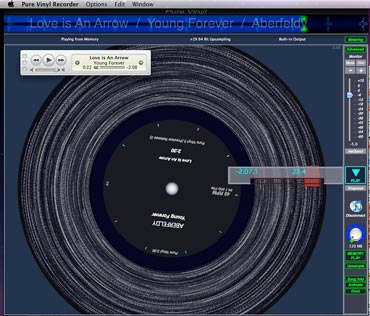 New Preview Release 2 of Pure Vinyl 3 to be made available by October 30

iTunes "Docking" Mode (Above Left) and "Vinyl 45 Jukebox" Animation Mode (Above Right) of Pure Vinyl iTunes Music Server

Partial list of NEW Features (Compared to Preview 1):
True Gapless Playback
Dynamic Allocation of Memory (based on percentage of available Free or Inactive Memory) for Memory Play Mode
Choice of High Quality Upsampling or Automatic Sample Rate Switching to Media Native Format
New, elegant interface: all control may be done directly from iTunes (song selection, play, skip forward/back, volume, etc.)*
iTunes does everything except play the music, which is conveyed via Pure Vinyl's proprietary, high quality 64 bit audio kernel
Scrolling "Times Square" style billboard display of Artist, Album, Song, etc. with Firefly Peak / RMS metering
More announcements to follow...

*Automatically works with third party iTunes remote control and automation software and hardware...!

Of course, all music file formats supported by iTunes also are supported by the Pure Vinyl player, including Apple Lossless, etc., in addition to the current features (64 bit subwoofer crossover, NetSend distributed audio, vinyl integration, etc.)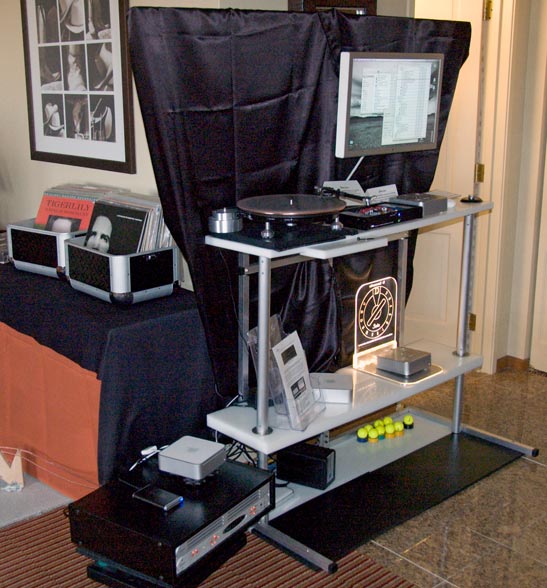 (Left) Channel D Products at Rocky Mountain Audio Fest 2009; (Right) Michael Fremer and Robert Robinson, Channel D's Director of Engineering, in Channel D's Exhibit Room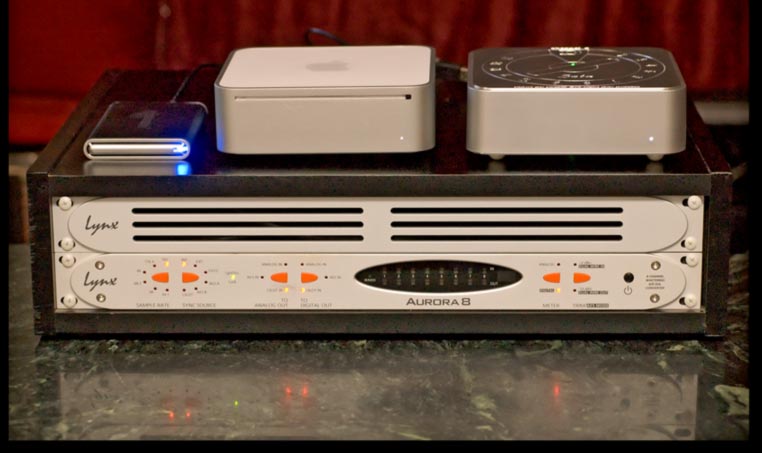 Channel D Unveils New LP Music Server at Rocky Mountain Audio Fest

Seta Vinyl Music Server, Includes: (Top) 500 GB Pocket Music Storage Drive; Mac Mini Computer; Seta Nano Ultra Wide Bandwidth Balanced Phono Preamplifier (Bottom) Lynx Aurora Mastering Quality 192 kHz 24 Bit AD/DA and Digital I/O Interface

Channel D announced today that it will be showing its long awaited Seta Vinyl Music Server package at the 2009 Rocky Mountain Audio Fest in Denver (Room 2024), October 2 - 4, 2009.

Robert Robinson, Channel D's Director of Engineering, said, "Potential customers for our Pure Vinyl LP playback, editing and archival software, which also functions as a high resolution music server, have expressed frustration at being overwhelmed by the plethora of choices in audio hardware for configuring a music server based on Pure Vinyl."

"In response, we have assembled a custom-tailored, turn-key package that takes the guesswork and grunt work out of using Pure Vinyl, providing the very best that both digital and analog have to offer. This package also leverages our unique position in the audio industry, with extensive expertise in both audio software and hardware design, to offer unsurpassed, end-to-end solutions linking vinyl playback with high resolution digital music reproduction."

The music server hardware offers multiple inputs and outputs, and includes an energy efficient and silent Macintosh Mini computer, running the brand new Mac OS X 10.6 Snow Leopard operating system, fully configured and ready to go - this just involves connecting a turntable to the inputs of the Seta preamplifier. The Seta's analog outputs go to an analog line preamplifier; the Aurora analog outputs also directed to a preamplifier for monitoring, or even connected directly to the audio system's power amplifiers. If running a subwoofer, Pure Vinyl includes a built in, fully configurable stereo crossover running at 64 bits of internal resolution to support multi-amplifier audio systems.

The Mini can be connected to an optional external monitor, or run "headless" without a monitor and controlled remotely from the listening position with a Mac or Windows laptop computer, with a virtual screen display that functions as if the listener were interacting directly with the Mac Mini. The Mini may optionally be connected via a standard, simple HDMI or VGA connection to a widescreen digital television, if available (and here, as a significant plus, the Mac Mini, when not being used for music listening, can receive HDTV broadcasts or receive streaming Internet video from Netflix, etc., or used to play movies on DVD with superb video quality and audio transmitted directly to the high quality Lynx Aurora audio interface.)

The included Pure Vinyl software, besides featuring Channel D's "revolutionary" (United States and international patents pending) animated vinyl image generator, used for both eye candy and the useful task of editing vinyl tracks transferred at high resolution digital (up to 192 kHz 24 bits), also can be used as the basis of a music server setup. The Pure Vinyl music server is based on familiar, easy to set up iTunes playlists, but its relationship with iTunes ends at that point. Pure Vinyl bypasses iTunes for audio playback, using Channel D's proprietary 64 bit audio kernel, which shines from the benefit of a 6 year development period. The audio kernel performs automatic sample rate switching, gapless track playback, and optional ultra high quality, on the fly sample rate upconversion to 176.4 or 192 kHz, as supported by the Aurora (the choice of sample rate is decided by the user). A memory play mode is available in Pure Vinyl for gapless playback of CD quality tracks for over one hour before the software must re-access hard storage media. With an optional internal SSD (solid state drive) in the Mini, all playback essentially can be performed entirely from solid state memory, even at the highest resolution (192 kHz 24 bit).

For vinyl, the server includes a Channel D Seta Nano balanced, ultra wide bandwidth phono preamplifier (DC to > 9 MHz, unprecedented for a phono preamplifier) for low noise, ultra high fidelity LP playback. The preamplifier includes balanced "flat" outputs for use with Channel D's Pure Vinyl software RIAA compensation (including dozens of built-in antique correction curves, as introduced in an earlier version of Pure Vinyl) plus internal, conventional, precision (± 0.1 dB) hardware RIAA correction, for direct connection to an analog playback system, preserving an all-analog signal path.

The elegant design of the Seta Nano complements the appearance of the Macintosh Mini computer, which is very popular among users of Channel D's Pure Vinyl software. Channel D Seta Model L or Model H phono preamplifiers are available as upgrade options.

Accordingly, and as explained above, Pure Vinyl provides a single point of integration for playback of all analog (including LP, tape, analog radio) and digital music sources, as well as complete integration with the audio system (via Pure Vinyl's crossover and multi-amplifier features).

The input and output hardware of the Seta Vinyl Music Server features the widely acclaimed Lynx Aurora Mastering Quality audio interface, supporting high resolution sample rates up to 192 kHz / 24 bits via a single FireWire connection. The Aurora has a full complement of analog and digital inputs and outputs (32 total channels). Extra analog inputs can be used for other analog sources, such as tape or FM radio. The Pure Vinyl software is used to switch among the different inputs. Thus, the audio interface and software combination serve as a virtual multi-input line stage preamplifier. The extra audio outputs can be used for multi-amping as mentioned above, or for music distribution. (Pure Vinyl also includes a NetSend music distribution feature for distributed audio over Ethernet and includes acoustic propagation delay echo cancellation, a feature not included in other music distribution systems). Finally, the Aurora includes 8 (as 4 stereo) AES/EBU / SPDIF digital inputs (up to 192 kHz) for connecting external digital sources such as CD players, and 8 digital outputs for connecting external DAC(s), if desired. The Aurora, if used with digital input sources, provides proprietary, high quality jitter suppression. The rear of the server includes a panel that provides easy access to all inputs and outputs.

For external music storage, a 500 gigabyte pocket drive is included, enough for over 200 full length archived LP records, saved at 192 kHz 24 bit resolution, in a package only about the size of a deck of playing cards. The music storage capacity can be expanded without limit via optional plug-and-play NAS drives.

Pricing for the Seta Vinyl Server will be announced, and includes installation and setup, performed at the customer's premises by a Channel D representative.

Partial list of Features:
Seta Low Distortion, Direct Coupled, Ultra Wide Bandwidth Phono Preamplifier
Fully Balanced with XLR and RCA Inputs and Outputs
Simultaneous Flat (Balanced) for Digital Application (Pure Vinyl Software RIAA EQ) and Standard RIAA (Single Ended) Outputs
Pure Vinyl LP playback, archival and editing software
Pure Vinyl includes Music Server feature with automatic sample rate switching and gapless playback; optional 64 bit upsampling and Memory Play modes
Mac Mini with 2 GHz Intel Core 2 Duo Processor and Mac OS X 10.6 Snow Leopard
500 GB Pocket Drive
Optional Multi-Terabyte NAS Plug and Play Networked Storage
Optional LCD Monitor; also can be Fully Remote Controlled via Mac or PC (Windows) Laptop at Listening Position (or via optional Apple wireless Bluetooth mouse and keyboard)
Optional ElGato USB Terrestrial HDTV Broadcast Receiver, Installed and Fully Configured for Mac Mini (small-room Home Theater applications)



(Above) Seta Vinyl Music Server, Rear View, Showing Analog and Digital Inputs and Outputs


Seta Model L / Model H Phono Preamplifiers, now with optional internal hardware RIAA correction!

Channel D's ultra low distortion, ultra wide bandwidth Seta Model L and Model H preamplifiers are now available with an internal RIAA correction option (simultaneous Flat and RIAA outputs, both balanced; plus single-ended RIAA), for audiophiles insisting on an all-analog signal path. External (rotary selector switches on rear panel) cartridge loading adjustment is now a standard feature.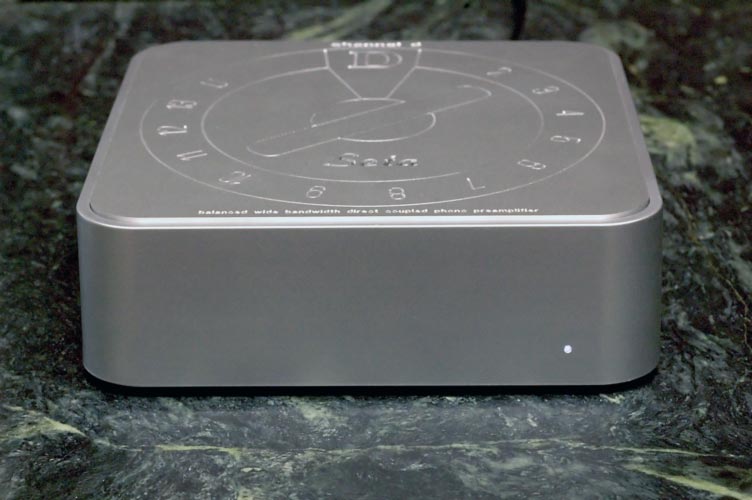 The new ultra wide bandwidth Seta Nano Phono Preamplifier. Now shipping.

The balanced, ultra wide bandwidth (> 9 MHz, unprecedented for a phono preamplifier) of the Seta Nano provides an important key to pristine vinyl playback, for several reasons:

The signal bandwidth of vinyl records is much wider than the 20 Hz to 20 kHz response of human hearing (not to mention digital compact discs), particularly apparent in recordings of brass, string and percussion instruments. Signals above 20 kHz cause trouble for typical narrow-bandwidth phono preamplifiers, resulting in intermodulation distortion that can produce a noticeable hardness and veiling of the midrange, which is very distracting to music listening.

The wide bandwidth design also eliminates problems associated with the application of negative feedback (used locally and sparingly in the Seta Nano) for distortion reduction, because the internal delay of the Seta's circuitry is extremely short: measured in nanoseconds.

Finally, the audibility of one of the most maligned deficiencies of vinyl, "pops and clicks," can be exacerbated by the design of the preamplifier. Transient signals caused by the stylus striking a scratch or foreign object in the groove have a fast risetime and large amplitude, unlike any musical signal. The fast risetime can cause slewing distortion in traditional narrow bandwidth phono preamplifiers, magnifying the audibility of pops and clicks.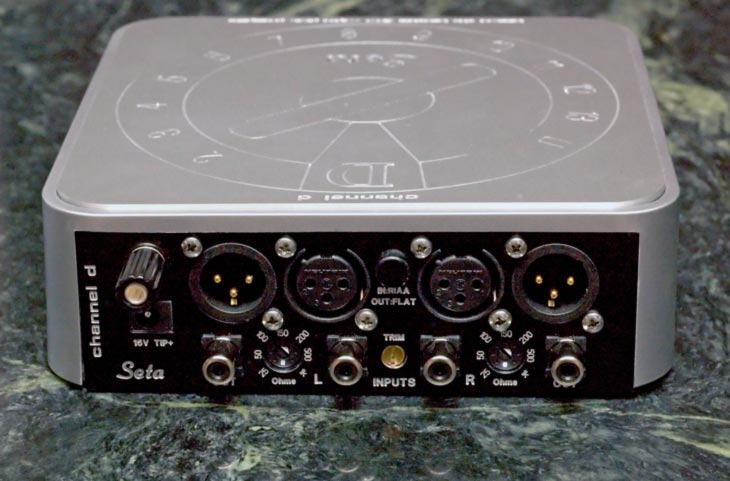 Specifications and Features - Seta Nano for Low Output Phono Cartridges

Voltage Gain: 47 dB, Flat Outputs; 60 dB, RIAA Compensated Outputs

Simultaneous RIAA Compensated (for all-analog monitoring) and Flat outputs (for high-resolution 192 kHz / 24 bit real-time digital RIAA monitoring / playback and Flat archival using Pure Vinyl software)

Input Load Resistance: Maximum 2k ohms; real panel selector for 25/50/100/150/200/500/1k ohms

Input Capacitance: 50 pF

Frequency Response (-3 dB): DC to 9 MHz

Phase Shift: ultralinear, less than 1 degree, DC to 100 kHz

Distortion: less than 0.02%, 20 Hz - 20 kHz, at 0 dBV (ca. 3 volts, balanced, peak to peak) output level

Noise (re: 0 dBV, 20 Hz - 20 kHz, RMS Measurement):
Flat outputs: A-weighted, less than -94 dB; unweighted, less than -92 dB
RIAA compensated outputs: A-weighted, less than -86 dB; unweighted, less than -74 dB

RIAA Correction Topology: Fully Balanced with Passive HF, Active LF; hand selected, ultra low dissipation sprayed metal contact polypropylene film capacitors

RIAA Correction Curve Accuracy: Better than ± 0.1 dB, 20 Hz - 20 kHz (with high pass filter disabled)

RIAA Correction Channel Match: Better than ± 0.02 dB, 20 Hz - 20 kHz

RIAA Overload Margin: > 20 dB, 20 Hz - 20 kHz

RIAA High Pass Filter: Balanced, 12 dB / octave, 10 Hz cutoff frequency (-0.3 dB at 20 Hz; can be disabled)

Choice of Standard RIAA or Modified "Neumann" Shelving Response at 50 kHz (Internal Jumper, Standard RIAA is Default Setting)

Circuit Topology: Balanced, direct-coupled (no capacitors in signal path, except for the RIAA correction); second order DC servo, with primary time constant of 10.3 seconds; low noise 4-layer circuit boards and surface mount component technology

Channel Separation: > 90 dB, 20 Hz - 20 kHz (> 100 dB at 1 kHz)

Cartridge Fine Balance Trim: 2 dB range

Inputs: Neutrik, Premium Gold Pin XLR Balanced; RCA (RCA inputs also function as single-ended to balanced adapters)

Outputs: Neutrik, Premium Gold Pin XLR Balanced; RCA (single ended)

Output Impedance: less than 40 ohms

Output Drive Capability: Balanced interconnect, up to 33 feet (10 meters), 600 ohms or greater load impedance

Power Supply: Quadruple filtered, low noise, galvanically isolated internal DC converter; ultra low ESR filter capacitors; external DC supply (universal 110/220 volt 50/60 Hz supply also available on request)

Power Consumption: less than 5 watts

Dimensions: 6" x 2" x 6" (w x h x d)

Price: $1599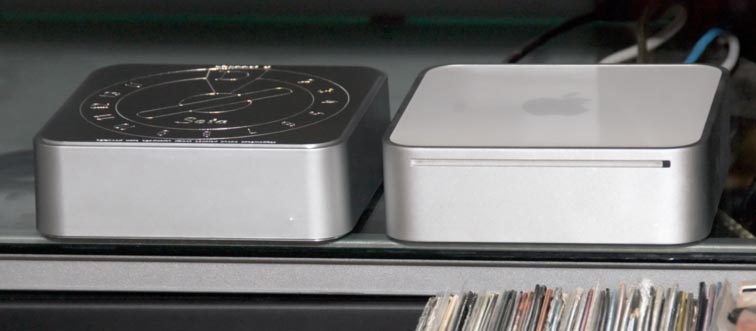 Seta Nano Phono Preamplifier and a Mac Mini

Click here to download a copy of the Seta Nano user's manual.

Click here for ordering information.

Click here for more information on the Channel D Seta phono preamplifier line.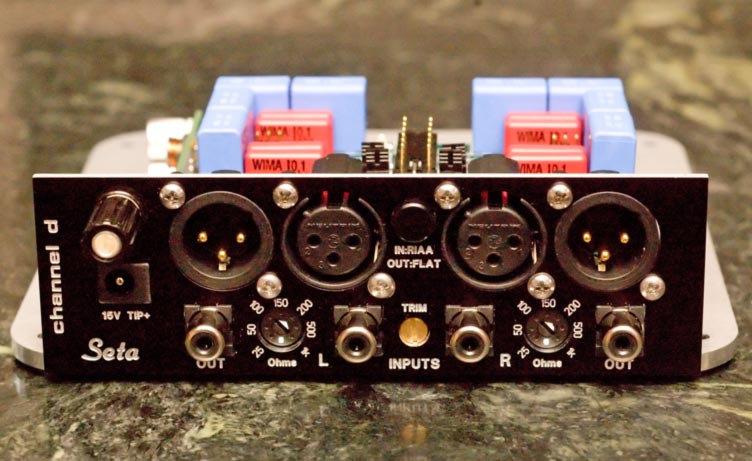 Photo of the rear panel of the new Seta Nano, sans outer enclosure.

There's a lot going on under the hood (that will be revealed in exactly two weeks)...


Announcing the Seta Nano Phono Preamplifier

A culmination of all we've learned from developing our Seta phono preamplifier line, at a significantly lower price point! Leveraging Channel D's unique combination of expertise in both audio software and audio hardware design, the new Seta Nano represents a key component solidifying Channel D's unsurpassed, end-to-end solutions linking vinyl playback with high resolution digital music reproduction.
Seta Low Distortion, Direct Coupled, Ultra Wide Frequency Bandwidth Design
Fully Balanced with XLR and RCA Inputs (no XLR adaptors required if using conventional interconnects)
"Flat" Phono Preamplifier for Digital Application; selector switch for internal hardware RIAA compensation
External Cartridge Loading and Trim Adjustments
Shipping August 19, 2009! Full Specifications, Features and Pricing to be released at that time.


Pure Vinyl 3 Preview Release 1 Now Available!

Pure Vinyl Named as Stereophile Recommended Component (Computer Software).

Pure Vinyl reviewed in feature article by Michael Fremer in Stereophile Magazine (Vol. 32, No. 3, March 2009, pp. 27 - 33)

Included in the article is a screenshot of the forthcoming Pure Vinyl 3, showing the new feature for optionally incorporating scanned or photographed label art onto the "virtual vinyl" image.


Channel D Certified as Authorized Lynx Audiophile Dealer

As a newly authorized Lynx Audiophile Dealer, Channel D will be offering ready-to-go packages featuring our revolutionary Seta preamplifier, coupled with the widely acclaimed Lynx Aurora 8 professional quality 192 kHz 24 bit FireWire / Analog / Digital audio interface.

These audiophile packages may optionally include a Mac Mini or MacBook Intel Core 2 Duo processor computer, pre-configured with Channel D Pure Vinyl software for RIAA correction. Just plug and play with your turntable and audio system! The availability and configurations for these turn-key, simple to set up plug-and-play packages will be announced.

Announcing Pure Vinyl 3

Pure Vinyl 3 is scheduled to ship 1st Quarter 2009. Features include closer integration between recorder and editor, a completely rewritten editor, and much more. Pure Vinyl 3 will be a free upgrade for all Pure Vinyl users.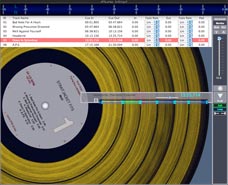 Click image for larger screenshot.

Click here for major new features, compared to Pure Vinyl 2.3.

Pure Vinyl highlighted in Steven Stone's Rocky Mountain Audio Fest Coverage in The Absolute Sound Magazine

Issue 190, February 2009.


Seta Model H and Seta Model L Wide Bandwidth Balanced Phono Preamplifiers Now Shipping!

Click image below for more product information...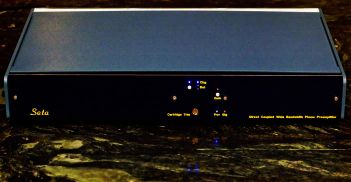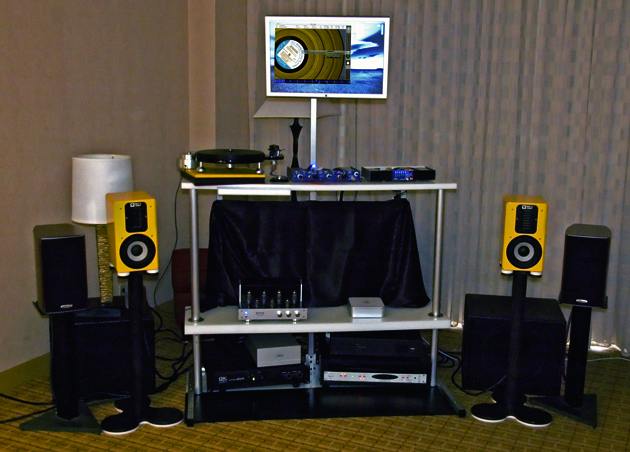 (Above) Photo of our audio demo at Rocky Mountain Audio Fest 2008.
Our RMAF 2008 Demonstration System included:
Channel D Seta Professional and Seta Model L Direct-Coupled, Balanced Wide Bandwidth Phono Preamplifiers
Apple Mac Mini 2.0 GHz Intel Core 2 Duo, 23" External Touchscreen Monitor; Apple 1.83 GHz Intel T2400 Core Duo MacBook used for Remote Control (with VNC Screen Sharing over GB Ethernet)
Lynx Aurora 192 kHz Mastering Quality A/D and D/A Converter (connected to Mac Mini via FireWire)
In 2008, we decided to use accessible (in price) loudspeakers to demonstrate the high quality of vinyl source material and Pure Vinyl's software RIAA correction. Comments from attendees were such as "I have a $150,000.00 sound system, the sound quality of your demo was incredible, and makes me re-think what I have now."
Pure Vinyl 2.3 was honored with a Hitsquad Musician Network Editor's Choice Award!
Also, stay tuned for new product announcements in the coming weeks... including an inexpensive recorder/editor software package using Pure Vinyl's "virtual vinyl" paradigm, designed especially and exclusively for making vinyl to CD (44.1 kHz 16 bit) transfers, using standard turntable and preamp setups or USB turntables.
Pure Vinyl 2.3 released!
Includes new features, usability improvements, and updated documentation. A free update for all users.
Technical "white paper" on software RIAA equalization, presented at the 123rd AES Convention, may be downloaded here.
Slides from a technical "white paper" on software RIAA equalization, presented at the 123rd AES Convention, may be downloaded here. A copy of the accompanying paper will be made available soon.
Pure Vinyl 2.2 released!
Includes new features, usability improvements, and updated documentation. A free update for all users.
Pure Vinyl 2.1 released! A free update for all users.
Comprehensive improvements to the editor, streamlining the track editing procedure.
Improvements to the 64-bit upsampler for transparently playing back tracks from your iTunes collection via your high-rez audio interface, up to 192 kHz / 24 bit.
New, completely revised documentation (over 150 pages). (Yes, Pure Vinyl does quite a lot more than you might think...)
New, 10 minute long full-size "screencast" movie showing how to edit tracks in Pure Vinyl, using our unique "grab and spin" virtual vinyl editor.
And... stay tuned for more information about the Seta preamplifier. Revised specs and features. The wait will be more than worth it...
Pure Vinyl 2.03 is released. A free update for all users.
Pure Vinyl 2.02 is released (a free, compatibility update for Mac OS X 10.5 "Leopard"). Now includes a free* activation code for Channel D's AudioLeak 2.0 audio file inspector / loudness analyzer / metering software (included with Pure Vinyl 2.0.2 download)! A free update for all users.
*with the purchase of a Pure Vinyl activation code
Seta preamplifier performance measurements page updated.
We've finally received a shipment of the first production run of Seta preamplifier circuit boards.
The bandwidth (-3 dB) isn't 1 MHz. Nope. Input to output, it's greater than 1 MHz.
A lot greater, in fact (how much, exactly? We'll save that information for later).
We're extremely pleased, and have made extensive measurements (with all potentially bandwidth-reducing input and output protection circuitry in place, of course), that we'll be posting very soon, in advance of our shipping of this ground-breaking phonograph preamplifier. At that time, the specifications, compared to the original October 12 news release posted below, will be (favorably) revised (corresponding with the results from these tests).
In addition, we have a couple of important surprise announcements planned for the time of the shipment of the Seta.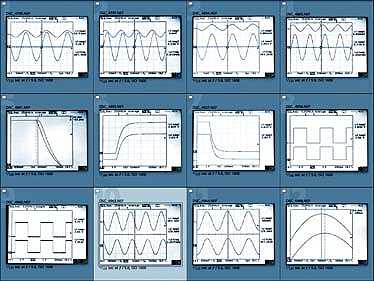 Click on the image above to see technical measurements of the Seta preamplifier.
Why be concerned with reproducing a bandwidth exceeding the conventional 20 kHz audio range? Does audio reproduction involve megahertz frequency signals?
The short answer is: No. But, phonograph music reproduction is slightly more complicated.
The long(er) answer is that the signals from a vinyl record are pre-emphasized: in other words, the high frequencies are boosted by as much as 20 dB (10 times). This stresses preamplifiers to a higher degree, in the frequency range where preserving signal integrity is at its most difficult. Unfortunately, distortion in the upper octaves can cause intermodulation distortion that also affects the critical midrange, creating what's best described as a subtle "haze" that obscures vital musical details. We have confirmed this during several years spent in developing this product, involving extensive listening evaluations beginning with rudimentary but surprisingly capable "jelly bean" op-amp designs, then finally evolving into a hybrid topology culminating in the Seta preamplifier design, with a bandwidth of well over 1 MHz, even at high gain settings.
What's more, the frequency response of vinyl is much wider than the "20 Hz to 20 kHz" response of human hearing. Recordings that push the limits of the upper frequency range of vinyl bandwidth are more common than you may realize. This is especially true of well-recorded "audiophile" recordings, for which extra care has been taken in the mastering process. Here is an example of an analysis of the frequency range of such an audiophile remastering, focusing on a recording with high-frequency percussion sounds. In that example, the energy above 20 kHz will prove troublesome for narrow-bandwidth preamplifiers, intermodulation distortion producing a noticeable, hard midrange "splat" or crunching sound, distracting the listener from the reproduction of the crystalline bell's sound...

Click above image for vinyl frequency response analysis example.
Finally, the audibility of one of the most maligned deficiencies of vinyl, those irritating "pops and clicks," is a function of and can be exacerbated by the design of the preamplifier. The reason is that the transient signals caused by the stylus striking a scratch or foreign object in the groove have, in addition to large amplitude, a very fast risetime, and are unlike any musical signal. The fast risetime can cause slewing distortion in traditional narrow bandwidth or inexpensive phono preamplifiers, magnifying the audibility of pops and clicks.
It doesn't matter whether it's a strictly linear gain stage like the Seta, to be used with our Pure Vinyl software; or a linear gain stage followed by standard passive RIAA phonograph equalization (as in many conventional - and high end - phonograph preamplifiers). The same principles (and limitations) apply.
In other words: a preamplifier, such as the Seta, that's capable of reproducing signals with a bandwidth well over 100 times greater than "typical" audio signals, insures that the preamplifier, when working in the audio frequency range, is operating with significantly reduced strain and distortion - the equivalent of a "straight wire with gain" - which is the ultimate goal of all "audio" amplifiers.
The dramatic result: Seta unmasks previously hidden details from your treasured vinyl records.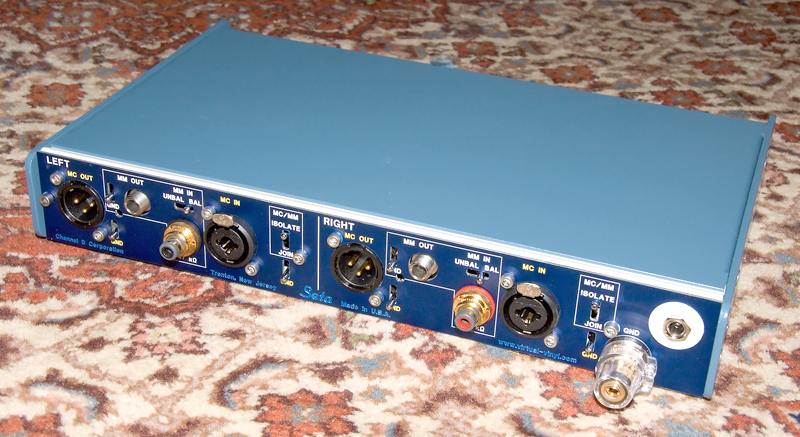 (Above) Seta™ Rear Connection Panel
Demonstrated at Rocky Mountain Audio Fest: Seta Moving Magnet / Moving Coil Cartridge Balanced Input / Output Preamplifier (Shipping soon)
Delivers stunning improvements in sound staging, detail and 3-D imaging (compared to other preamps)
Pure Linear, Straight-Wire Signal Gain, designed to be used in conjunction with Pure Vinyl software and A/D Interface (for RIAA curve correction)
Unprecedented input stage signal bandwidth of 3 MHz (- 3 dB; measured at 42 dB gain, MC input)
Input to Output bandwidth of 1 MHz (- 3 dB; at 62 dB gain, MC)
Professional quality preamplifier: balanced, differential circuit path from input to output (can be used with Balanced or Single Ended turntable connections)
Dual Mono Design plus Dual Input/Output (MM and MC, a total of four signal channels)
Circuit Topology Optimized For Cartridge Type (Bipolar for MC; JFET for MM)
All Gain and Load Settings are accessible from front panel
Adjustable Gain: 42, 49, 56, 62 dB (MC); 37, 44, 51, 57 dB (MM)
Load Resistance: 30, 60, 100, 120, 400, 1000, 4000, 47 k ohms (MC)
Load Capacitance: 15, 30, 75, 130, 180, 220, 270, 370 pF (MM; resistive load fixed at 47 k ohms)
Signal to Noise ratio better than 85 dB (MC or MM, 20 Hz to 20 kHz bandwidth)
Distortion < 0.003%, 10 Hz to 40 kHz
Solid copper, 1/4" thick internal bus bars for ground return
Premium, precision components all around (0.1 % metal film resistors; mica and polypropylene MM cartridge loading capacitors)
Rechargeable battery powered (low impedance SLA, with short term output current capability of over 20 amperes)
Includes Channel D's exclusive analog battery monitoring and conditioning circuitry, leveraging our internationally recognized expertise in battery technology
Additional specifications to follow
Below: Photos of the Pure Vinyl demonstration room at the recent 2007 international Rocky Mountain Audio Fest, Denver, Colorado.
Demonstration System:

The new Channel D Seta Phono Preamplifier
Michell Tecnodec Turntable, Rega RB250 Arm with Balanced Wiring, Ortofon Kontrapunkt Moving Coil Cartridge
Apple MacBook 1.83 GHz Intel T2400 Core Duo, 23" External Touchscreen Monitor
Lynx Aurora 192 kHz Mastering Quality A/D and D/A Converter (connected to MacBook via FireWire)
Loudspeakers: the classic and widely acclaimed KEF 103; driven by another classic: Hafler 9130 MOSFET Power Amplifier
Subwoofers: (4) Bag End S12E, using Pure Vinyl's built-in adjustable 64-bit Crossover; QSC RMX 1450 Professional Power Amplifier
"Interconnects:" Belden Professional, Fully Balanced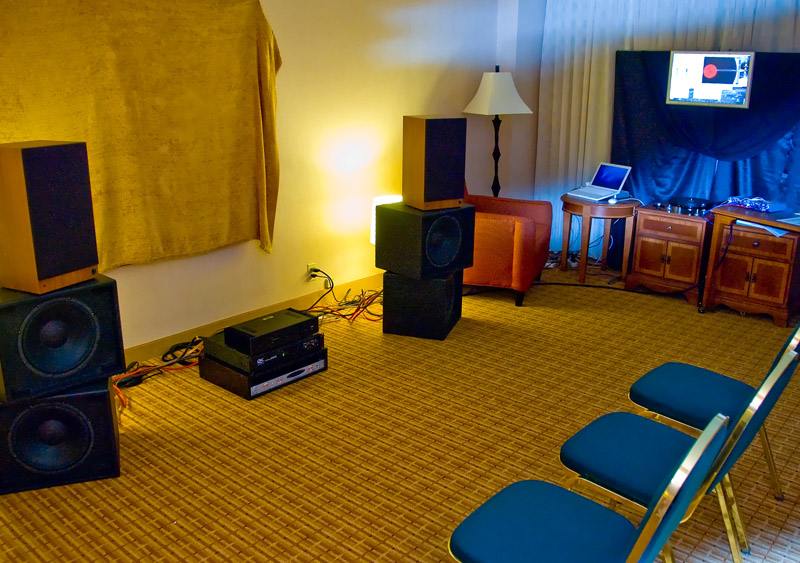 Thanks to all of our Pure Vinyl users who made the trip to Colorado and dropped by to say hello, and listen to our new Seta phonograph preamplifier; and all of our new friends who took the time to have a seat and listen!
Read what Adam Goldfine of Positive Feedback said about the Seta in their Rocky Mountain Audio Fest show report (scroll to end of article): http://www.positive-feedback.com/Issue33/rmaf_ag.htm
Read what Marja and Henk of sixmoons audio said about the Seta in their Rocky Mountain Audio Fest show report (scroll about 1/3 of the way down, and includes a photo of the inside of the Seta we used for all vinyl playback at RMAF): http://sixmoons.com/industryfeatures/denver07m+h/denver_6.html
Technical "white paper" on software RIAA correction presented by Channel D's Director of Engineering at the 123rd Audio Engineering Society Convention in New York City
(Paper abstract below):
P4-6 Filter Reconstruction and Program Material Characteristics Mitigating Word Length Loss in Digital Signal Processing-Based Compensation Curves Used for Playback of Analog Recordings
Renewed consumer interest in pre-digital recordings, such as vinyl records, has spurred efforts to implement playback emphasis compensation in the digital domain. This facilitates realizing tighter design objectives with less effort than required with practical analog circuitry. A common assumption regarding a drawback to this approach, namely bass resolution loss (word length truncation) of up to approximately seven bits during digital de-emphasis of recorded program material, ignores the reconstructive properties of compensation filtering and the characteristics of typical program material. An analysis of the problem is presented, as well as examples showing a typical resolution loss of zero to one bits. The worst case resolution loss, which is unlikely to be encountered with music, is approximately three bits.
Convention Paper 7185
Note: official reprints of this paper will be provided for the asking at the 2007 Rocky Mountain Audio Fest. Additional copies of the paper will be made available for download pending release obtained from AES in mid - 2008, per their standard Convention Paper procedures.
Coming Soon:
Vestitino di Seta Moving Magnet / Moving Coil Cartridge Load Network
Easy Turntable Interfacing with Linear Gain Microphone / Instrument Preamps
Use With Balanced or Unbalanced Turntable Connections
Adjustable (From Front Panel) Resistance and Capacitance
Dual-Mono, Minimum-Signal-Path Design, Gold Contact Rotary Switches
Separate Connections for Two Cartridges (one MM, one MC)
External Switches for Ground Lift (Input / Output)
Top-Quality, Premium Components Used Throughout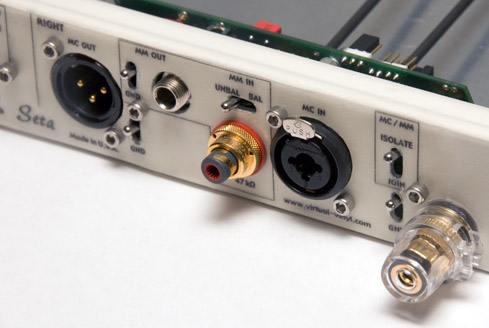 (Above) Vestitino di Seta™ Rear Connection Panel (Right Channel shown, with Enclosure Top Removed)
Photos below: playing and listening to music in the Pure Vinyl demonstration room at the 2006 international Rocky Mountain Audio Fest, Denver, Colorado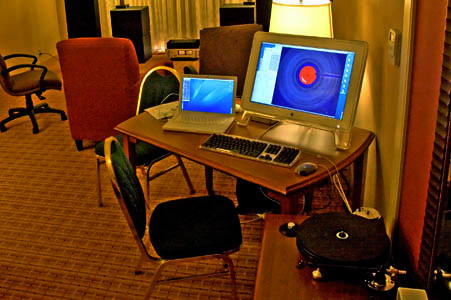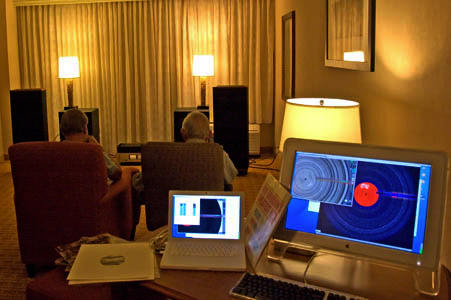 Pure Vinyl mentioned in the audiophile press:
Home | Purchase / Download Software | Support | Specifications | Contact | Pure Vinyl News
© 2006 - 2009 Channel D All Rights Reserved